Illustrated below is a simplified diagram showing at clinical levels how the uniquely formulated WINVIVO Wound Ointment interacts with the tissues and micro-organisms on the wound bed to promote wound healing:


At physiological levels, preclinical studies of WINVIVO Wound Ointment in the US and its botanical ingredients worldwide demonstrate that the product has broad-spectrum antimicrobial activities, anti-inflammatory, anti-oxidative, anti-ischemic and mild analgesic effects. List below are relevant scientific publications and summaries of the botanicals' traditional uses and modern research findings:
"A Multi-Component Topical Botanical For Wound Healing" by D. A. Paslin, MD in Practical Dermatology (2013) June, pp. 37-42.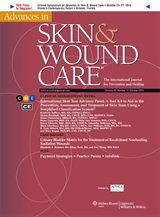 "Initial Clinical Assessment of a Novel Multifunctional Topical Ointment for Difficult-to-Heal Wounds: A Case Series" by Alexander M. Reyzelman, DPM & Irina Bazarov, MS in Advances in Skin & Wound Care (2012) 25:557-560.